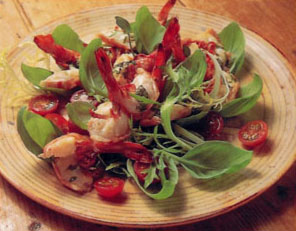 Having operated Catered-Chalet accommodation in Belle Plagne for 16x seasons, we have used this knowledge to source a number of alternative catering options to the traditional catered chalet, that still offering a quality catering experience to make the most of your stay in Belle Plagne.
Most of the catering options can provide dishes suited for those with food allergies. Including: Vegetarian, Vegan, Gluten Free, Nut, Fish/Shellfish, Soya, Dairy/ Lactose
​
Self-Catering - you prepare your own meals.
Traditional Catered Chalet experience from staff with a reputation for delivering excellent evening meal, breakfast and afternoon tea menus directly from guests' own kitchens for 6 or a flexible 3 days. Limited Availability.
Delivery of Freshly-Prepared evening meals and desserts delivered directly to your accommodation (Service to be confirmed).
A local restaurant providing a table for your group to enjoy evening meals and breakfasts for 7x days or a flexible 3x nights of evening meals.
Delivery of award-winning delicious Frozen Meals directly to your accommodation.
A combination of the above - say 3x nights of local restaurant meals plus 3x nights of frozen meals delivered + plus breakfast pack, and 1x night of arranging your own meal etc.
Notes for Catering Options:
Prices below may be subject to some adjustment, but when booked and paid for will be fixed at that point in time. Prices do not include any drinks.
Some options may not be available on certain dates due to staff commitments already made (ie Caered Chalet option).
All confirmed at time of booking. Other options regarding catering continue to be explored.
| | | |
| --- | --- | --- |
| Catering Options Season 2018-19 | €pp | Pax Nos. |
| Catered Chalet Option, Breakfast & Eve Meal + Afternoon Tea, Adults, Eve 3xCourses, 6xdays | € 382 | 8-20 |
| Catered Chalet Option, Breakfast & Eve Meal + Afternoon Tea, Child, Eve 2xCourses, 6xdays | € 336 | 8-20 |
| Catered Chalet Option, Breakfast & Eve Meal + Afternoon Tea, Adults, Eve 3xCourses, 3xdays | € 224 | 8-20 |
| Catered Chalet Option, Breakfast & Eve Meal + Afternoon Tea, Child, Eve 2xCourses, 3xdays | € 180 | 8-20 |
| Delivery Fresh, Eve Meal, Adults, Eve 2xCourses, 6xdays (service to be confirmed) | € 134 | 8+ |
| Delivery Fresh, Eve Meal, Child, Eve 2xCourses, 6xdays (service to be confirmed) | € 67 | 8+ |
| Delivery Fresh, Add Afternoon Tea, 6-days (service to be confirmed) | € 18 | 8+ |
| Restaurant Option, Breakfast & Eve Meal, Adults, 3xCourses, 7xdays | € 224 | 1+ |
| Restaurant Option, Breakfast & Eve Meal, Child U12, 3xCourses,7xdays | € 112 | 1+ |
| Restaurant Option, Eve Meal, Adults, 3xCourses, 7xdays | € 161 | 1+ |
| Restaurant Option, Eve Meal, Child, 3xCourses, 7xdays | € 81 | 1+ |
| Restaurant Option, Eve Meal, Adults, 3xCourses, 3xdays | € 72 | 1+ |
| Restaurant Option, Eve Meal, Child, 3xCourses, 3xdays | € 35 | 1+ |
| Delivery Quality Frozen Meals, Eve Meal, Adults, 3xCourses, 6xdays | € 142 | 2 |
| Delivery Quality Frozen Meals, Eve Meal, Adult, Vegetarian, 3xCourses, 6xdays | € 126 | 2 |
| Delivery Quality Frozen Meals, Eve Meal, Adult, Vegan, 1xCourse, 6xdays | € 72 | 1 |
| Delivery Quality Frozen Meals, Eve Meal, Adults, 3xCourses, 3xdays | € 61 | 2 |
| Delivery Quality Frozen Meals, Eve Meal, Child, 3x Main Courses, 1xtype Dessert, 3xdays | € 23 | 1 |
| Delivery Quality Frozen Meals, Breakfast: 7x croissants | € 6 | 1 |
| Delivery Quality Frozen Meals, Breakfast: 7x Pain au Chocolate | € 6 | 1 |
| Delivery Quality Frozen Meals, Breakfast: 7x baguette | € 8 | 1 |