Featured Chalet-APARTMENT ACCOMMODATION at 2050m in Belle Plagne, La Plagne, Paradiski
Please see below a description of our Featured Accommodation: Chalets Chardon, Bruyere and Saule. For up to 16x seasons we have run these 3x Chalets complete with staff on a Catered Chalet basis. Our Chalet Chardon is reviewed on Flipkey/ Trip Advisor and has consistently been rated as 'Excellent'. We are now offering these and additional Chalet-Apartment accommodation on a Self-Catering basis.
All 3x Chalet-Apartments are located right on the blue Arpette piste that joins Belle Plagne and Plagne Bellecote (see plan of village below). Ski In/Out access to the piste is directly from the accommodation, and skiing/snowboarding back is possible throughout the season due to the high altitude of 2050m. Accommodation Rental normally operates from a Saturday to Saturday. Exceptions: during a festive season where Christmas falls on the weekend.
As the Chalet-Apartments are part of a larger development, they all have the advantage of being right on the piste. This location is helped by their being no other accommodation immediately adjacent to the building - only pistes and the trees – themselves adding a pleasant feature to the area. If you are lucky, you may even see a local alpine squirrel foraging about to keep it going through the winter (similar to native UK red squirrels, only coloured black).
Being part of a larger building has other advantages: there is free access to the Spa Club (pool (12m)/ Sauna/ Hot-Tub and Gym and Treatments by appointment) and the building-wide wi-fi is also free of charge. Ski Lockers and a Boot Room are located on the same level as the piste, making access to and from the slopes as easy as possible. Ski directly away from here and ski back to the same point - no walking required and no bus transfers to the bottom of the slopes (and further queues) are necessary!
The Chalets are finished using the traditional Savoyard style of construction of stone and timber. Thus, the accommodation has character, whilst also providing rooms with excellent facilities. The style of construction continues through the interior - traditional plaster and wood panelling on the walls, tiled floors in the public areas, and bedrooms and bathrooms fitted with pine furniture. All bedrooms have en-suite bathrooms with jacuzzi baths and showers over.
The Chalets are located within the village of Belle Plagne at point 1 on the map below: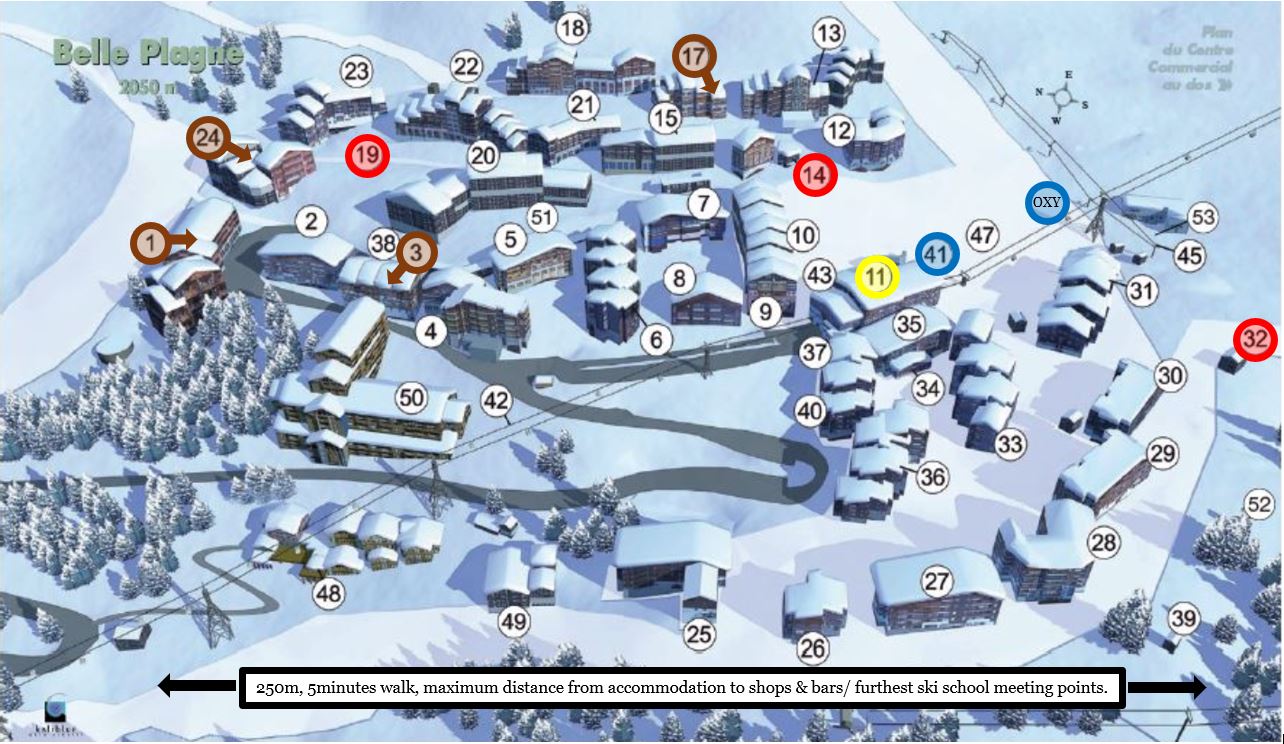 Other points of interest:
ESF Ski School - Point 14
ESF Snow Garden - Point 19 and Point 32
Oxygene Ski School - Point OXY
Intersport Ski Hire - Point 41
Shops, bars etc. - Point 11
The village is very compact, walking from one side to the other takes approx. 5 mins, and most of the parking is underground.
| ACCOMMODATION | DESCRIPTION |
| --- | --- |
| Chardon | All on one level. 7x bedrooms, all en-suite. |
| Bruyere | Over 2 levels; 4x bedrooms are on the Lower level; internal staircase to Upper level – 2x further bedrooms, lounge and dining room. All bedrooms en-suite. |
| Saule | On the ground level, directly under Chardon. All on one level. 6x bedrooms, all en-suite. |
| Parking | Underground, 15x metres from the entrances to Chardon and Bruyere. There is a charge of approx. €75 per vehicle for the week. Height limit 2.0m |
| Spa | (Pool/ Sauna/ HotTub/ Gym): 30metres from the entrances to Chardon and Bruyere. Within the building, no need to go outside. |
As well as this Featured Accommodation, various combinations of Chalet-Apartments from 1x to 9x bedrooms can be booked to provide flexible accommodation to cater for different sizes of groups. We would aim to have them as close together as possible.
For further details on each of these Featured Chalet-Apartments, please click on the tabs on the left near the top of the page.
All photographs and plans are non-contractual.