Chalet Apartments, Belle Plagne, La Plagne, France
Description
We offer a range of ski in /ski out Chalet-Apartments, conveniently located by the piste, but within 5 minutes walk of the village centre (see village plan below). Sizes range from single bedroom ones, sleeping 2-4 guests (the extra 2 beds are sofa beds in the lounge area) to 9 bedroom ones sleeping 18-20 guests. Many of the units with 4 or more bedrooms have their own en-suite bath/shower facilities.
We have in the past run some of these Chalet-Apartments as Catered Chalet accommodation. These include:
Chalet Bruyere (6x bedrooms, over 2x floors, 12-14 guests)
Chalet Chardon (7x bedrooms, all on the same level, 14-16 guests) and
Chalet Saule (6x bedrooms, all on the same level, 12-14 guests)
These are all still available to rent with one of our Catering Options included, or on a Self-Catered basis.
Rental normally runs from Saturday to Saturday. Exceptions are during a festive season period where Christmas falls on a weekend. Accommodation is available from 17:00 on the day of arrival, to be vacated by 10:00 on departure. Luggage storage is available around these times.
Chardon Style Chalet-Apartments are right on the piste between Belle Plagne and Bellecote.
Biniou Style Chalet-Apartments are right by the piste that runs from the centre of Belle Plagne village (Biniou-Style Upper are right on the piste).
All are provided with Linen and Towels (beds made up on arrival, except any sofa beds), Cable TV, an Oven, Microwave, Fridge-Freezer, Dishwasher, Kettle, Toaster, a range of Pots and Pans, Crockery and Glasses, free Wi-Fi.
We can offer a range of catering options during your stay. Please look at the 'Catering' Tab at the top of the page for further details.
The Chalet-Apartments are located within the village of Belle Plagne on the map below as follows:
Chalet Chardon Style - Points 1 and 24
Hotel - Point 24
Chalet Biniou Style - Point 3 (Biniou Style, Upper - point 17)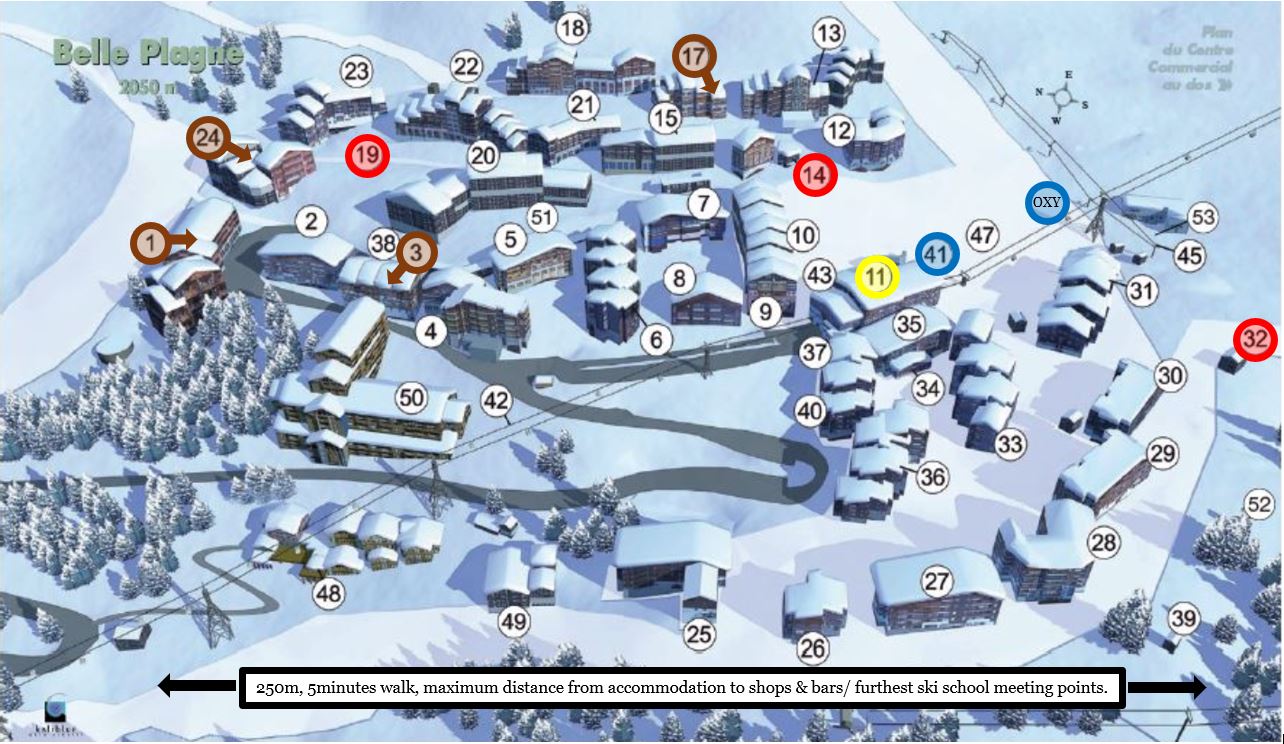 Other points of interest:
ESF Ski School - Point 14
ESF Snow Garden - Point 19 and Point 32
Oxygene Ski School - Point OXY
Intersport Ski Hire - Point 41
Shops, bars etc. - Point 11
The village is very compact, walking from one side to the other takes approx. 5 mins, and most of the parking is underground, with almost all buildings ski in/ ski out.